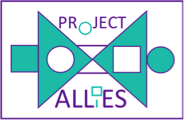 Students who have been accepted into the Master's Program in the Speech, Language and Hearing Sciences (SLHS) and Special Education departments can apply to participate in Project ALLIES (Autism Language and Learning in Inclusive Educational Settings)
About Project ALLIES
Project ALLIES is a 5-year personnel preparation project supported by the U.S. Department of Education, Office of Special Education Programs (Grant # H325K170053). The co-directors of the project are Drs. Betty Yu and Pamela Wolfberg. The grant began in 2018. The aim of Project ALLIES is to recruit and co-train 8 scholars from SLHS and Special Education respectively every year (16 scholars total). Scholars across the two disciplines will learn to work collaboratively to provide high quality, evidence-based services to school-aged students on the autism spectrum with significant social-communication needs (especially those from traditionally underrepresented communities) in inclusive educational settings.
The acronym ALLIES and the project logo (which is adapted from the Ashanti andinkra [visual symbol] for cooperation and interdependence) convey our commitment to creating an alliance among professionals, families and community partners in service of:
Building an inclusive community that promotes cultural, linguistic, and neuro-diversity, with a particular focus towards supporting communities that are traditionally under-served
Removing barriers to meaningful participation, communication, and socialization for children on the autism spectrum and their families
Ensuring access to and success towards meeting high educational standards through intensive, coordinated, interdisciplinary, curriculum- and evidence-based instruction and intervention for diverse students with high-intensity social-communication needs
The philosophic foundations of Project ALLIES are consistent with the professional practice guidelines put forth by the American Speech-Language-Hearing Association (2006; n.d.) and Council for Exceptional Children (CEC) (2009) which emphasize the need for interdisciplinary, family-centered, developmentally-based, and culturally/linguistically competent services.
After the successful completion of the program, SLP scholars will meet the requirements for an American Speech-Language-Hearing Association-accredited Master of Science degree in SLP, California Credential in SLP Services, and the California state license in SLP. Special Education scholars will meet the requirements for a Master of Arts degree in Special Education and the California Education Specialist Credential. Both groups of scholars will receive the Autism Spectrum Graduate Certificate issued by San Francisco State University.
Program Requirements for SLHS Students
Project ALLIES is designed to be completed by SLHS graduate students within the time frame of the Master's program. Students who participate in the training program will be required to complete project-specific activities in the following five areas:
Coursework: Trainees will take four courses (12 units) in addition to the coursework required for their graduate degree and credentialling. These include three courses focusing on autism and one on social communication.

SPED 791: Nature of Autism Spectrum Disorders (Spring Year 1)
SLHS 702: Social Communication Development (Summer Year 1)
SPED 825: Communication, Behavior and Instructional Supports: Autism (Fall Year 2)
SPED 794: Communication, Socialization and Imagination (Spring Year 2)

Clinical Training: Trainees must complete two levels of clinical training that are integrated into the existing SLHS graduate program practica.

Trainees must select the Friendship & Play Clinic as one of their on-campus child clinics. 
Trainees will also be placed in a school internship with a focus on service delivery to autistic students following inclusive principles.

Service Learning Projects: Trainees must complete two service learning projects.

Family Partners Respite Service Learning Project : Trainees will participate in a service learning project which matches them with a family of a child on the autism spectrum for whom they will provide 40 hours of respite care services. The purpose of the project is to facilitate firsthand experiences and reflections about the everyday lives of families of children on the autism spectrum. This service learning experience is offered in partnership with Levana Autism Support Services
Transition Supports Service Learning Project: Trainees will participate in a service learning project in which they will provide a minimum of 6 hours of support for individuals on the autism spectrum above 18-years of age who are preparing for post-secondary transitions (e.g., employment, college, independent living, community living, and more).

Seminars: Trainees in Project ALLIES will participate in seminars in the Integrated Play Groups [IPG] model.
Regular Meetings: Trainees will meet regularly several times each semester with co-directors and with others in our local autism communities.  
Post-Graduation Service Obligation
Within five years after graduation, trainees are required to satisfy a service obligation in return for the scholarship assistance they received. SLHS graduates must work on a full-time or a full-time equivalent basis as a speech-language pathologist (SLP), an SLP supervisor, a postsecondary instructor or researcher in speech-language-hearing or related services for three years. A majority of the work (at least 51%) that graduates perform must be related to the training that they received in the field of speech-language-hearing, special education, early intervention, or related services for children with disabilities. At least part of the services provided must benefit children on the autism spectrum. Part-time employment may be used to satisfy the obligation (for example, working half-time for four years to fulfill the equivalent of a two year obligation). At least once a year, graduates will submit a report of the following to the directors of Project ALLIES, including:
Contact information
Description of any employment that counts toward fulfilling their service obligation
Employer information
If needed, any requests for an exception or deferral from the service obligation
Stipend Support
The majority (65%) of the funds for Project ALLIES is devoted to trainee support in the form of stipends. It is expected that 16 trainees (8 SLHS students and 8 Special Education students) will be accepted into the program each project year. Each trainee will receive over $10,000 in stipends and funded activities over the course of their participation in the program.
Applying to Project ALLIES
Students who have been accepted to the SLHS Master's Program and who are interested in applying for Project ALLIES should contact Dr. Betty Yu at bettyyu@sfsu.edu for more information, or to obtain an application.