Office Hours for Fall, 2022
Email slhsinfo@sfsu.edu to make an appointment.  Remember that all SLHS students must see an academic advisor every semester. At any time, you can also make an appointment to see an advisor by calling the SLHS office at (415) 338-1001.
Faculty Office Hours

| Faculty | Office Hours (office hours are virtual unless otherwise specified) |
| --- | --- |
| Dr. Michael Clarke  | Tuesday, 12-3 p.m. and Thursday, 2-3 p.m. |
| Dr. Laura Epstein | Monday, 4-5 p.m. and Wednesday, 9 a.m. - 12 p.m. (in person or zoom)  |
| Dr. Teresa Gray | Monday, 1:30-2:30 p.m. (zoom); Thursday, 10 a.m. - 12 p.m. (in person or zoom); Friday, 1-2 p.m. (in person or zoom)  |
| Dr. Marcia Raggio | Monday, 8-10 a.m.; Tuesday, 3:30-5 p.m.; Thursday 9-9:30 a.m. |
| Dr. Gloria Soto  | Monday, 1-3 p.m.; Thursday, 1-3 p.m. |
| Dr. Anusha Sundarrajan | Monday, 1-2 p.m.; Tuesday, 10:30 a.m. - 12 p.m.; Thursday, 10:30 a.m. - 12 p.m. |
| Dr. Betty Yu | Wednesday, 12-2 p.m.; Friday, 10:30-11:30 a.m.; Thursday, 3:30-4:30 p.m. |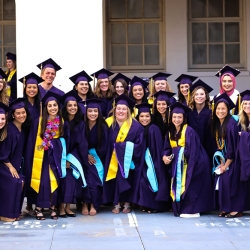 Student Outcome Measures
The students in the SLHS department are our greatest assets. There are approximately 275 students enrolled in the SLHS department (210+ undergraduate students and 65 graduate students). Our students are representative of the rich diversity of the San Francisco Bay Area.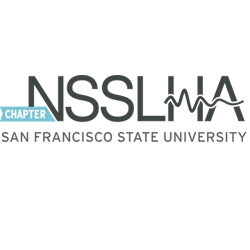 Join NSSLHA! and Get Involved in the SLHS Community!
The SFSU chapter of the National Student Speech Language Hearing Association (NSSLHA) is a highly active student-run service organization in the Bay Area and an indispensible partner to the SLHS department. There are many benefits to joining NSSLHA, including:
Developing and demonstrating your leadership skills
Building community and making friends with others in the program
Providing community service in the Bay Area
Putting your classroom knowledge to practice
Receiving event announcements and job listings
Participation in NSSLHA offers many experiences that are important for job readiness and preparation for graduate school. Join the SFSU NSSLHA Group on Facebook.
The SLHS department is a thriving community of students, faculty, professionals, and local community members.
Workshops and Continuing Education Events Listings
The Department of Speech, Language and Hearing Sciences and the SF State chapter of the National Student Speech-Language-Hearing Association (NSSLHA) provide workshops and Continuing Education events throughout the academic year for students, members of the community, speech-language pathologists, and other professionals. We provide Certificate of Maintenance hours, accepted by ASHA to fulfill continuing education (CE) requirements.
Scholarship Opportunities
View our scholarships page for a full listing of available opportunities. Students are encouraged to apply. Meet with an advisor to get support. 
Procedures for Complaint Against Education Program
A complaint may be made to the Council on Academic Accreditation (CAA) about any accredited program or program in candidacy status may be submitted by any student, instructional staff member, speech-language pathologist, audiologist, and/or member of the public.
Criteria for Complaints Against Graduate Education Programs. For a complaint to be considered by the CAA, it must:
(a) be against an accredited education program or program in Candidacy status in speech-language pathology and/or audiology,
(b) relate to the Standards for Accreditation of Graduate Education Programs in Audiology and Speech-Language Pathology, and specify where possible the relevant standards, and
(c) include verification and documentation (e.g., copies of grievance processes, communications verifying completion of processes, etc.) if the complaint is from a student or faculty/instructional staff member at that institution, that the complainant exhausted all relevant institutional grievance and review mechanisms before submitting a complaint to the CAA, if relevant to the complaint.
The complaint must clearly describe the specific nature of the complaint and the relationship of the complaint to the accreditation standards, and provide supporting data for the charge. The burden of proof rests with the complainant. All written testimony must include the complainant's name, address, and telephone contact information and the complainant's relationship to the program in order for the Accreditation Office to verify and communicate with the source of the complaint.
Complaints against a program may be submitted even if separate action is pending against the program by another body, except as outlined above.
For more information, see the (American Speech-Learning Hearing Association) ASHA website re: complaints. All complaints must be signed and submitted in writing to the Chair, Council on Academic Accreditation in Audiology and Speech-Language Pathology, American Speech Language-Hearing Association, 2200 Research Boulevard #310, Rockville, Maryland 20850. Complaints will not be accepted by e-mail or facsimile.